Welcome
Thank you for visiting the First Union Baptist Church web site.  We pray that you will be blessed by the information within our site.
We're striving to be the kind of church described in the Bible—a church with relevant teaching, heart-felt worship, honest friendships, constant prayer, and compassionate care for those in need.
In short, we'd like to live the kind of contagious Christianity that influences and encourages our entire community, one person at a time.
So, whether you're a spiritual seeker who's just starting to ask questions about God, or a committed Christian who wants to grow Read more
Our Pastor
Weekly Services
Sunday
8 a.m and 11 a.m. Worship Services
9:45 a.m. Sunday School
Fifth Sundays: One Worship Service at 10 a.m.
Wednesday
12 noon Bible Study
7 p.m. Bible Study
Saturday
8 a.m. Bible Mission – A Walk Through The Bible
Youth Sunday
3rd Sunday – Youth Sunday – Sanctuary – Youth leading and serving in worship
Holy Communion
2nd Sunday of each month – 8 and 11 a.m. Worship Services
Services Televised
Mondays at 4 pm – Comcast Cable Channel 6
Youth Ministry
Train up a child in the way he should go: and when he is old, he will not depart from it.

" Proverbs 22:6″
Third Sunday Worship Service
Youth Sunday
8:00 a.m. Worship Service in Sanctuary
Youth Choir Sings
11:00 a.m. Worship Service in Sanctuary
Youth Choir Sings
Youth Worship Leader & Youth conduct Devotions
Sisters of Praise Dancers & Mustard Seed Praise Dancers (alternate service participation)
Wednesday Night Bible Study
Class Lineup
Ages 3-6
Ages 7-10
Ages 11-13
Ages 14-18
Sisters of Praise (Praise Dancers)
Mustard Seed (Praise Dancers)
Contact Information: 804-745-9772 (church office)
Missions and Evangelism
"Go ye therefore, and teach all nations, baptizing them in the name of the Father, and of the Son, and of the Holy Ghost." Matthew 28:19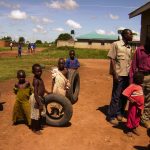 The Mission Statement of the First Union Baptist Church Missions Ministry is to spread the Gospel of Jesus Christ both locally and abroad, while meeting the needs of others, validating their self-worth and declaring GOD's glory.
Local Read more
Directions
First Union Baptist Church is located in the southside of the city of Richmond, Virginia. We are at the intersection of Hull Street Road and Derwent Road. Our edifice is conveniently located off of Chippenham Parkway and I-95. Our edifice address is 6144 Derwent Road, Richmond, VA 23225.
From the North:
Travel I-95 S toward Richmond. Take the I-64 W/I-195 S exit toward Powhite Parkway/Charlottesville. Merge onto I-195 S via exit 186 on the left toward US-60/Powhite Pkwy/US-360W (portions toll). Keep left to take VA-76 S toward VA-150/Powhite Pkwy/US-60/US-360 (portions toll). Merge onto VA-150 S/Chippenham Pkwy via the exit Read more