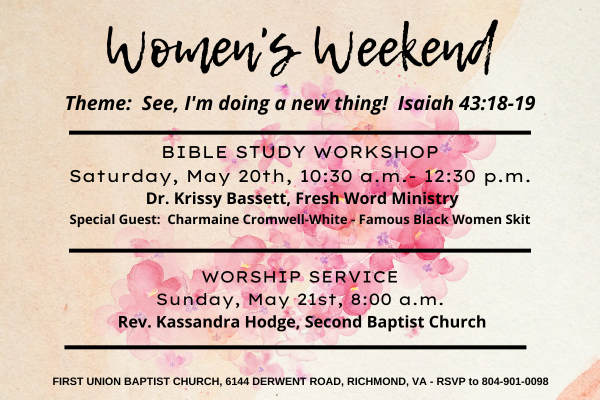 Women's Ministry Women's Weekend
Theme: See, I'm doing a new thing! Isaiah 43:18-19
BIBLE STUDY WORKSHOP
Saturday, May 20, 2023 10:30 a.m. to 12:30 p.m.
Dr. Krissy Bassett from Fresh Word Ministry, Henrico, VA.
Special guest on Saturday, Charmaine Cromwell-White with a skit on famous Black Women.
SUNDAY MORNING WORSHIP SERVICE
Sunday, May 21,2023 8 a. m. Worship Service
Rev. Kassandra Hodge, First Lady of Second Baptist Church, Richmond VA.
RSVP to 804-901-0098