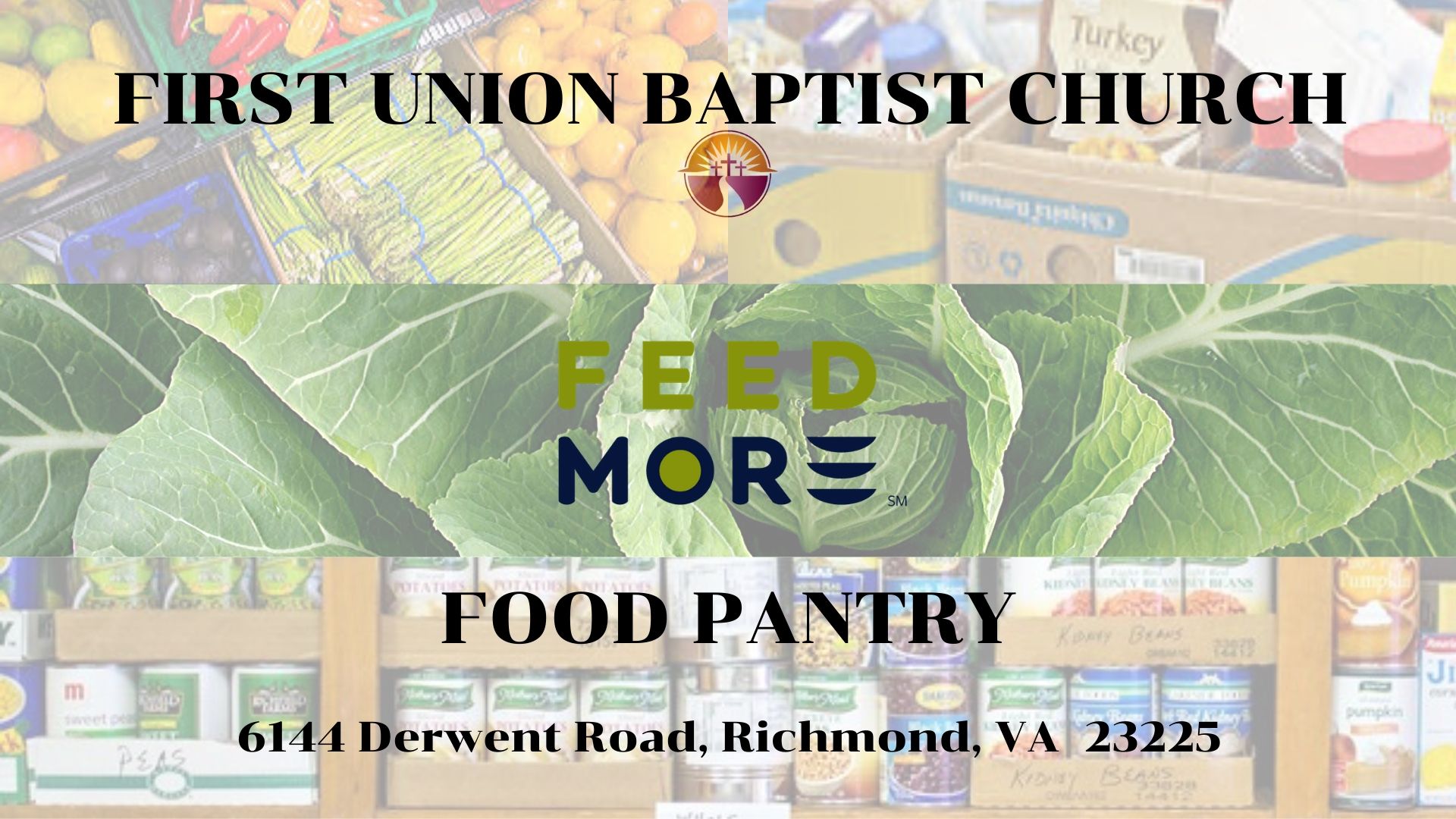 Event details
September 28, 2021
6:00 pm
First Union Baptist Church Food Pantry
804-543-4539 or 804-334-7196
***FUBC FOOD DISTRIBUTION UPDATE:
COVID-19 precaution procedures are in place. While we know this virus is primarily spread through close contact and respiratory droplets, we want to take precautionary measures to create a safe environment for everyone.
Social distancing is in effect and face coverings are required to pick-up food. Face coverings are mandated by the Commonwealth of Virginia inside places where people congregate, including places of worship, waiting rooms and libraries.
If you are feeling sick and/or are experiencing any symptoms as listed with the CDC or are at high risk, https://www.cdc.gov/coronavirus/2019-ncov/specific-groups/high-risk-complications.html, stay home and send a representative to get your food.
Food distribution is EVERY TUESDAY from 6 p.m. – 7 p.m. and EVERY SECOND TUESDAY includes our USDA which used to be on second Thursday.
You can and are encouraged to come to both distributions.
📌Please drive in through the side closest to the single white door, we will check you in. Then drive to the double white doors and we will load your vehicle.
No income minimum or requirements, but income will need to be stated along with basic household information. Personal interaction will take place with our volunteers, so please wear a face covering/face mask.
If you have not picked up before we need the following information: name, date of birth, address, family size, birth date for each family member and income. You do not need to bring any verification of this information.
📍HELP US SPREAD THE WORD THAT WE ARE A FOOD SOURCE IN SOUTH RICHMOND, VA ASSISTING THOSE IN NEED📍 In partnership with FeedMore.
Feel free to share this post with anyone and everyone. Thank you for helping us bridge the food gap and address food insecurities.
First Union Baptist Church is a food source in Richmond, VA in coordination with FeedMore.
Contact 804-543-4539 or 804-334-7196 for more information.
First Union Baptist Church has food that must be distributed. It is free…there is no cost. Please share this information.