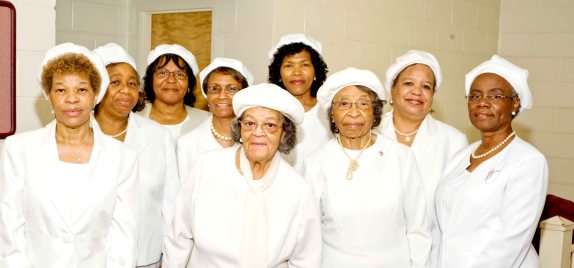 Posted in: Women
-
Sep 15, 2011
Comments Off

on Deaconess Ministry
The Mission Statement of the First Union Baptist Deaconesses is they shall assist the Pastor in developing the spiritual life of the women and girls of the church for the best possible Christian service. They shall cooperate with the Pastor and the Deacon Ministry in visiting the members; in the care of the sick, needy, and distressed members; and in the preparation of the observance of the ordinances of the church. They shall assist in promoting the evangelistic and missionary programs of the church, in the name of our Lord and Savior, Jesus Christ.
PRIMARY RESPONSIBILITIES OF THE DEACONESSES
1. Assist the Pastor and Deacons with Communion.
a. Help the Deacons prepare the Communion elements.
b. Take care of Communion glasses and linen (make sure it is washed, ironed, folded and put away).
c. Make sure the Communion table and pulpit are prepared properly (candles' lights working, pulpit cover changed to white, white flowers in pulpit, and Pastor's gloves available and properly maintained).
d. Be available to restock Communion elements, if needed.
 2. Assist the Pastor and Deacons to administer Communion to the sick and shut-in at least once per month, usually on the third Saturday (one or more Deaconess accompany the Deacons). We read scripture, sing or pray (per the Deacon's instructions). In addition to assisting the Pastor and Deacons with Communion on the third Saturday, we respond whenever a request is made. We have a responsibility to visit the sick, deprived and destitute and provide service. In addition to serving Communion, Deaconesses shall visit the sick and shut-in at home, hospital, and meet both spiritual and physical needs. Deaconesses also serve food at Freedom House on an annual basis.
3. Assist the Pastor and Deacons with Baptism.
a. Inform female candidates of what to bring for baptism.
b. Help female candidates dress.
c. Follow-up with new female converts.
d. Counsel them through the process.
e. Make sure there is enough towels and baptism clothing available.
f. Wash baptism clothing and towels and restock.
 4. Mentor through the Deaconess Ministry. Make contact with new female converts or persons joining First Union on Christian experience. This is done by:
a. Provide person with assigned Deaconess card at the time they join or accept Christ.
b. Contact person within one week of the time joining.
c. Effective April 1, 2005, the Deaconess Ministry will send a letter to new female members informing them of the services offered through the Mentor Program, within one week of their joining or accepting Christ.
d. Follow up with subsequent phone and personal contact for six months to help person have a successful adjustment.
e. Provide information regarding ministries, Bible studies, special counseling or help female with personal needs.
 Objective:  To support and encourage the continued spiritual growth of new members.
5. Assist with repast for death of a church member, comfort those in mourning and assist as needed.
OFFICERS FOR 2015
President, Regina Mason
Vice President, Cathy Pritchard-Turner
Secretary, Erin Sims
Treasurer, Glynova Amy
Chaplain, Flossie Jackson
Asst. Chaplain, Cathy Pritchard-Turner
Emeritus Deaconesses:
Dorothy Green
Annie Williams