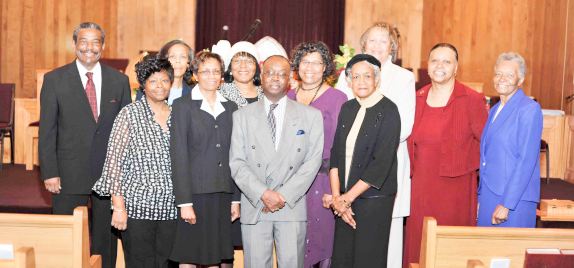 Be careful for nothing, but in everything by prayer and supplication with thanksgiving let your requests be made known unto God. Philippians 4:6
The Mission Statement of the 50-Plus Ministry is to glorify God through a ministry consisting of dedicated and committed Christians in their senior years who continue to uplift his name through love, fellowship, witnessing and service to others.
Some of the 50 Plus Ministry activities include: Visiting and worship services at the Envoy Rehabilitation Center, serving dinner at Freedom House, attending and celebrating anniversaries with various senior ministries at churches throughout the metropolitan area and preparing Easter and Christmas baskets for the sick or underprivileged.
Each year the 50 Plus Ministry celebrates its anniversary on the first Wednesday in June along with other invited senior ministries from other churches and lunch is served to all our guests.
As seniors we often travel. We have traveled with the Richmond Parks and Recreation and some trips are organized within our ministry. We have visited such places as, The Spirit of Norfolk, Spirit of Washington, plays in Lancaster, Pa., Arundel Malls Shopping Center, the Holly Ball, Holy Land in Bedford, Va. and Captain George's Restaurant in Williamsburg. Each year the Ministry jointly celebrates with a Birthday and Christmas luncheon. At Christmas each member exchanges gifts.
As committed Christians in our senior years, we will continue to fellowship, witness and serve others. We will strive to serve the less fortunate and fellowship more with our known healing and recovery; for then we will know that our living will not be in vain.
OFFICERS FOR 2015
President – Berndine Hines-Lee
Vice President – Evelyn Vincent
Secretary – Lillie Ross
Treasurer – Cathy Nicholas
Chaplain – Dec. Joe Person
Social Committee – Johnnie Shepperson,Sr.